SHINKO INDUSTRIES Co., Ltd., from its foundation in 1975, has been sincerely working as a recycling business for used tires. Because of its stable supply and high caloric value, used tires are used by industrial circles such as paper mills, iron works and cement factories. Because of price hikes on crude oil these days, the demand for used tires is getting stronger and stronger as a competitive fuel and/or raw material. Under those circumstances, the Company deeply understands used tires are a "precious fuel" and not "waste material". The Company tries, thorough recycling of used tires, to lower the load onto the environment and to harmonize with regional society. The company runs its business based on commitment and honor. We play a part in a recycling based society, therefore the Company would appreciate strict guidance and warm assistance by all people concerned.
Thank you indeed,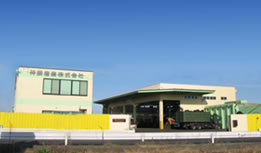 Koichi Shimizu
President & CEO
SHINKO INDUSTRIES Co., Ltd.

SHINKO INDUSTRIES Co. Ltd. tries to enlarge its corporate value on a long term basis by following the CREDOS mentioned below.
◆ Sincere management who have high ethical behavior
◆ Active contribution to society as good corporate citizens
◆ Corporate culture with good working conditions for its employees

Name
SHINKO INDUSTRIES Co., Ltd.
Address

1257 Shimoya, Isehara-shi, Kanagawa-ken 259-1123, Japan
Telephone 0463-91-3663 / Facsimile 0463-91-3664

Founded
October 31, 1975
Paid-in Capita
¥40million
Corporate Officers
Koichi Shimizu, President & CEO
Miho Otsu, Director
Daisuke Yumita, Director
Takashi Otsu, Auditor
Activities

Collection, Transport, and Processing of scrapped rubber products including used tires, belts, conveyer belts, and marine fenders.

Making chips after the shredding and/or cutting of scrapped rubber products such as used tires, and then supplying those chips to paper mills, iron works factories and cement factories for fuel use.

Selling used tires and casing tires to domestic and world-wide markets.
Copyright(C) SHINKO INDUSTRIES Co.,Ltd. All rights reserved.

SHINKO INDUSTRIES Co., Ltd. collects, transports and processes used tires and understands they are a precious resource. With this concept in mind, the Company seriously measures its environmental effects and tries to ensure environmental preservation. SHINKO INDUSRIES Co., Ltd. does this by:
Observing environment-related laws, regulations and other set requirements.
Continuously improving environmental management system
Preventing pollution in the company's daily activities. Some important areas include promoting the recycling of used tires and driving 5S activities.
Educating the public and employees about environmental policies through educational activities.

| | |
| --- | --- |
| Judging Authority | MSA |
| Registered No. | MSA-ES-366 |
| Update | 2017-10-27  |
| Validity | 2019-11-18 |
| Standard | JIS Q 14001:2015 |
| Industry Code | 24:reclamation |
| Registered Area | Collecting,Transportation and Processing of rubber waste including used tire and rubber materials in industrial, general waste product and selling recycle products. |
| | |
| --- | --- |
| MSA-ES-366 | |

The Company collects transports and processes scrapped rubber products including used tires, belts, marine fenders, high pressure hoses, marine hoses, crawlers etc.
To those who require used/casing tires >>See the details
The Company exports used/casing tires to world-wide markets, hence please give us of any requirement you may have.
Please do not hesitate to ask us if you have any further questions about our company.
Contact
Telephone:+81-463-91-3663
Facsimile:+81-463-91-3664
Business Hours:08:00-17:00
E-mail:info@shinko-industries.co.jp


Click here for inquiries and estimates via email info@shinko-industries.co.jp